CHATHAM COURT, CHATHAM STREET, DUBLIN 2
The proposed development comprises of the demolition of the existing three storey buildings on Chatham Street, and the construction of a five storey development building, including setbacks, above two levels of basement, with a gross floor area of 6,208 sqm. This includes the basement area of 1986 sq.m. The proposed building will be constructed adjoining an existing retail / office building on at One Clarendon Row. The One Clarendon Row building was constructed with 'soft spots' to allow for the integration of the proposed new building. As such the existing stair and lift core elements will provide vertical circulation for the new building. In addition, the surface water attenuation storage within the basement of the One Clarendon Row Building was originally sized to cater for the proposed Chatham Court redevelopment.
The development includes 12No. car parking spaces (10no. new and 2no. relocated) and 44No. bicycle spaces at basement level which will be assessed via an existing car lift currently serving the adjoining One Clarendon Row Building.
The development includes a two-storey basement, formed with perimeter secant piles tied through a capping beam into reinforced concrete (RC) basement liner walls.
The site area is 1171.7sqm (with an additional 40.3 sqm of 'other' lands along the frontage) and the current site is 100 percent hardstanding. The site is bounded by Chatham Street to the north, commercial buildings to the east and south and Clarendon Row to the west.
Upon completion, this phase will include five retail units totalling 15,597 sq ft and ranging from 495 sq ft to 12,680 sq ft.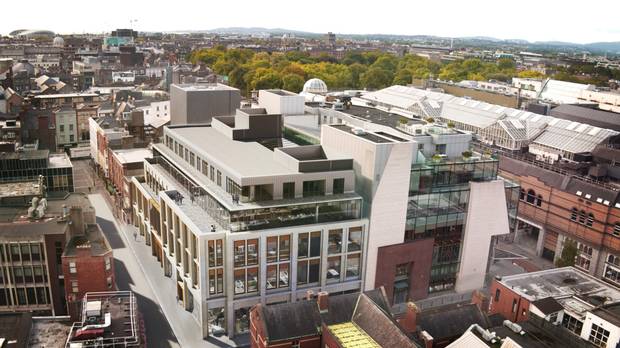 The asset, located adjacent to Grafton Street and St Stephen's Green, comprises retail units 33,500 square feet in size – currently occupied by Zara, H&M and Warehouse.
All told, the centre will ultimately incorporate 4,566 sq m (49,158 sq ft) of retail space and 5,568 sq m (56,936sq ft) of office accommodation